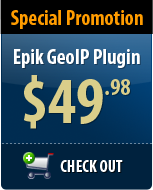 Ever want to offer targeted content to your site visitors? That is exactly what the Epik GeoIP plugin can do for you. Simply set up the content you want to show to different countries and put the shortcode in your post and the plugin does the rest.
Easy set up and management.
Uses the wordpress editor you are already familiar with.
Easily direct your traffic based on their location, set up complex html or simple text links to get the most out of your visitors.
Simple Text Example:
In this example a simple text link is being used as a call to action. The webmaster is providing a direct link for the United States and the United Kingdom (click for a better look):
Banner Example:
Here we have a banner being used as the call to action, changes to the online gambling industry over the past few years has made geographic targetting a must for affiliates.
The Epik GeoIP Plugin is available with 3 license options:
1 Website – The most common license for the casual blogger or small business.
2-5 Websites – Usefully for webmasters and power bloggers alike.
Unlimited Websites – for the extreme website builders out there.
Each purchase comes with:
6 months of free upgrades (1 year for Unlimited license)
1 month of free Tech Support and troubleshooting (3 months for Unlimited license)
"I almost want to give this plugin a bad review just to deter my competition from using it. It makes targeting specific nationalities with advertising a breeze – a couple of clicks and I'm sending US traffic to one place and UK traffic to another. It's amazing how simple the plugin is to use, and it's a tool that every webmaster should have in their arsenal."
"We use the geo ip plugin on our website. We list thousands of slots from all around the world and with the variety of online casinos out there and the different countries they accept etc it's crazy. We're happy to state that Epik Media more than delivered an excellent and easy to use and understand plugin."